Custom Manufacturing Services
Custom Manufacturing Services For Stainless Steel Modules & Equipment For Critical Process Industry That Demand Perfection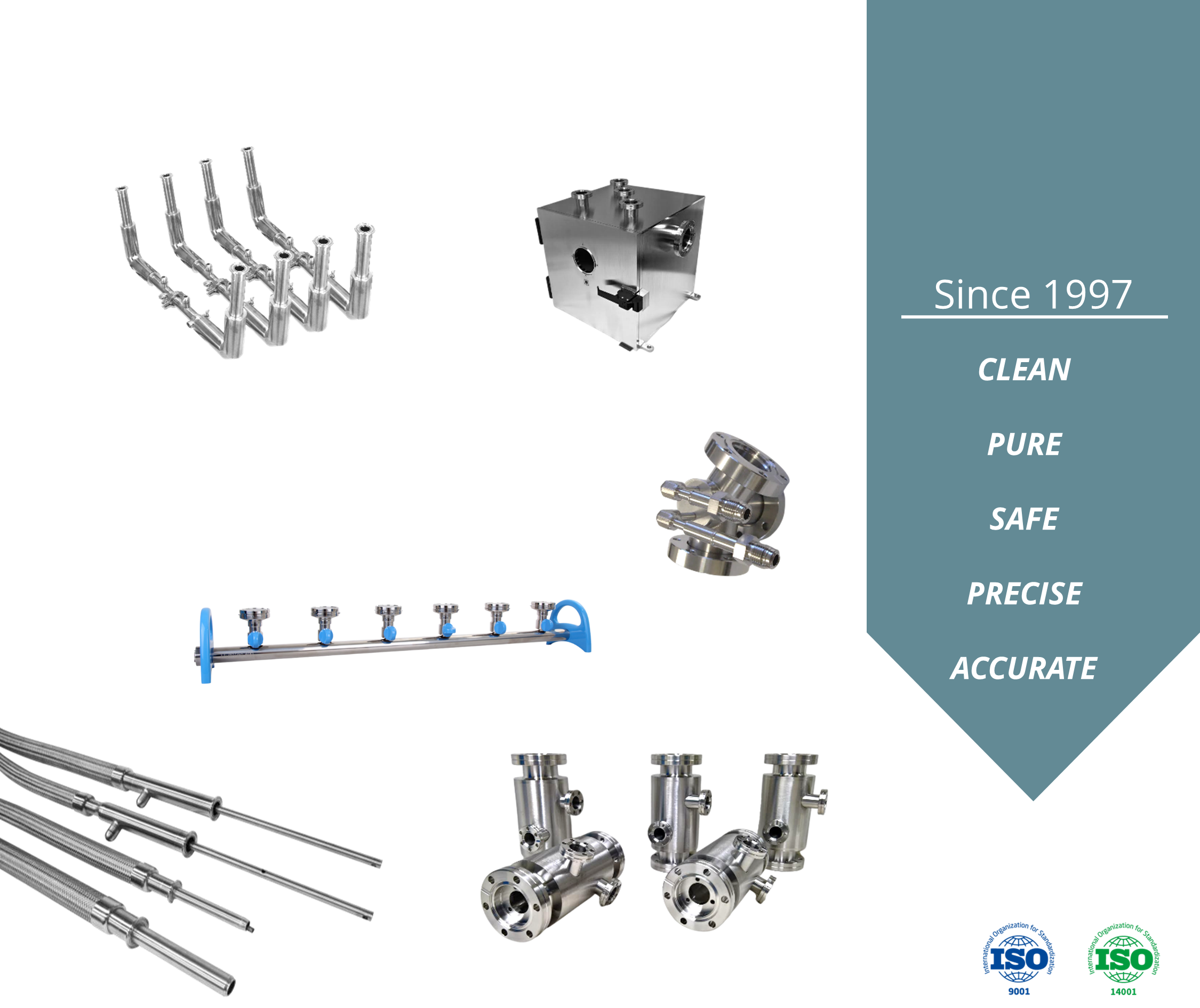 Overview
Orbital Technik is part of the Cryogas group of companies providing industrial solutions in high purity stainless steel modules and equipment.
Armed with knowledge in high purity tubular fabrication technology for stainless steel and exotic alloy like Hastelloy & Titanium, we established a clean fabrication facility for tubular products in Malaysia in 2015.
We are always one step ahead when it comes to offering highly reliable product fabrication services; and developing technological innovations that satisfy countless industrial application needs, even under the most demanding conditions.
We boost quality in manufacturing operations with high performing, precise, reliable and high-quality products and services.
Our success is made possible with the contribution of our customers and employees, whom, with their skills and passion, has given the voice, shape and reality to the future.
We look forward to serve and support all our customers, as well as continuously striving to exceed our customers expectation.
Vision
Provide high purity solutions for an evolving customer and industry with higher product quality, low ownership cost  fastest turn around time.
Mission
Through state-of-art technologies and cutting-edge processes, we develop innovative solutions for high purity industrial applications.
Values
Commitment to Quality, Service & Integrity.
Protecting the environment.
Embrace and uphold the values of ethics, honesty and trust at all levels.
Experienced Team
Orbital Technik engineering team is well-trained in various fluids flow condition under various temperature, pressure and purity requirements. Our fluid system expertise covers high purity gases, liquid and cryogenic media. We have technical exchange with visiting consulting experts from US & Europe  in  regular  interval  to  keep  our  team  with  latest metal fabrication technology and engineering.
Serving a broad spectrum of industries from life-sciences, semiconductor and aerospace, we offer capabilities in custom fabrication, polishing services, detailed 3D CAD drawings, and analytical testing.
With over 25 years of experience, we understand the exacting needs of these industries, including the necessity for weld precision and the purity of a system.
Orbital Technik is a relationship-driven company. We pride ourselves on partnering with customers to help solve their problems quickly. When working with our customers, we commit to delivering the highest quality service within the strict specification of your requirement. Let us help you find your next solution.
Our customer-centric approach means that we ensure that all our final products, services, & solutions are guaranteed superior and only of the highest quality.
The people in our company are those with talent, great ideas and enthusiasm will takes up the challenge of meeting each of our customer's need. They are the key to our success.
Process excellence drives business excellence. Our vision is focused on continuous improvement in processes, quality and R&D development.
We set ambitious goals to deliver what we promise. We understand our customers have a choice, and we have to continuously earn their trust through constant excellence. We always uphold our integrity, values and ethical standards as we continue to win new businesses.
Custom Manufacturing
Committed To Quality, Committed To You
Manufacturing Competency
1. Assembly Of High Purity Components In Cleanroom
All components assembly is performed in clean environment to minimize particle and grease contamination. 
Orbital welding of manifolds, HP media systems and high-capacity vacuum systems
Assembly of components (valves, process vessels)
Quality controls and leak tightness tests using helium leak tests
Residue-free cleaning
Low Particle packaging
From production to packaging, everything takes place in a controlled process
2. 25 Years Experience, Highest Level of Welding Competency
We are pioneers in the field of orbital welding with over 25 years of experience. We use the I-SEAM welding technology developed in-house to innovative manufacturing concepts. This makes it possible to produce closely spaced branch outlets with very little dead space.
Consistent quality by ORBITALUM orbital welding with pressure and residual oxygen monitoring
3D orbital welding using AVC-OSC technology for complex geometries and innovative components (e.g. 45° or 60° outlets) using DVR precision turn table
Robotic welding with precise reproducible welding processes via a parameter database
ID collar weld produce low dead space and closely spaced branches.
100% weld seam inspection
Simple documentation through microprocessor-controlled process
We have perfected the tube collaring process. This fully developed production methods ensure reproducible quality and are tested multiple times. The collaring of T-branch for manifolds is long-established expertise. In combination with our welding expertise, closely spaced branches also are routine for our production.
Standard branch sizes from 12.7 mm to 50.8mm
Distance between branches of ≤ 25 mm is possible
Various tube materials and diameters up to 101.6mm
Special designed collaring devices and tools
4. CFOS Cleaning Technology
Oxygen cleaning is a chemical cleaning, surface preparation service for products intended for use in Oxygen service, high purity processes, and environments that can extend the life and performance of a part. Oxygen cleaning process prepares a product to be used in an Oxygen-enriched environment by removing combustible contaminants such as oils, waste, paper, fiber, dust, solvents, weld slag, dirt and sand.
Cleaned to ASTM G93-96 Level A.
Exceeds CFOS CGA G4.1 cleaning.
Rinsed with DI water, purged with filtered nitrogen, capped and double bagged in heat sealed polyethylene
Improved cleanability of the components and system
Reduced particle retention & contamination to the process